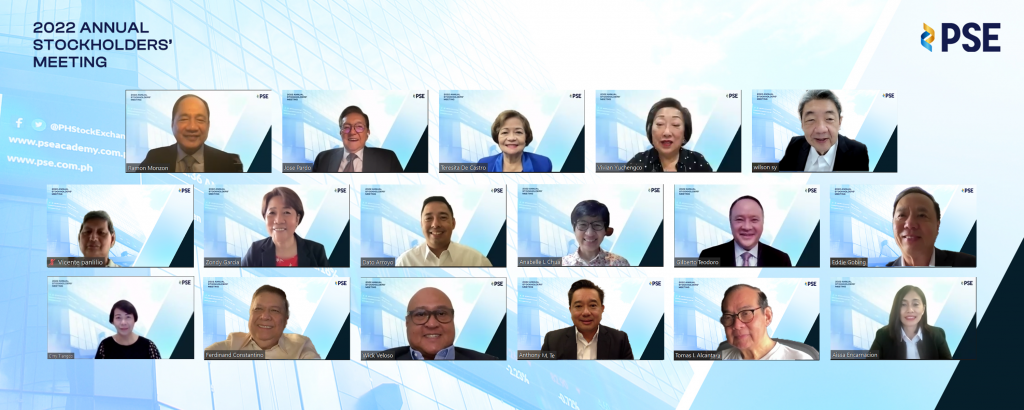 The Philippine Stock Exchange, Inc. (PSE) shareholders elected the Board of Directors who will serve for one year or until the next stockholders' meetingduringthe company's annual stockholders' meeting held on Saturday, August 13.
The 15-member PSE Board iscomprised of one President-director, five broker directors, andnine non-broker directors. Of the nine non-broker directors, at least five are independent directors and at least four are directors representing the interests of issuers, investors and other market participants.
Jose T. Pardo and Ramon S. Monzon were re-elected as Chairman and President and CEO, respectively.
Aside from Mr. Pardo, Chief Justice Teresita L. De Castro (ret.), Consuelo D. Garcia, Vicente L. Panlilio and Gilberto C. Teodoro Jr. have been given a fresh mandate to serve as independent directors. Re-elected as broker directors were Diosdado M. Arroyo, Eddie T. Gobing, Wilson L. Sy, and Ma. Vivian Yuchengco. Meantime, re-elected as sectoral directors were Anabelle L. Chua (representing issuers), Ferdinand K. Constantino (representing investors), and Tomas I. Alcantara (representing other market participants).
The PSE Board will have two new members, Anthony M. Te as broker director and Jose Arnulfo A. Veloso as non-broker director representing investors. Mr. Te is the nominee of Armstrong Securities. He serves as Chairman and Director of various private companies and is a member of the Board of two listed companies, Benguet Corporation and Marcventures Holdings, Inc. Mr. Veloso is the President and General Manager of the Government Service Insurance System (GSIS). A banking industry veteran, Mr. Veloso was the President of Philippine National Bank prior to his GSIS appointment.
"We actively pursued regulatory reforms to attract more listings and enhance liquidity in the stock market in our last term. We are committed to carry out more initiatives that will help further develop the local capital market and make PSE more competitive in the region," said PSE Chairman Jose T. Pardo. "We welcome the addition of the new members of the PSE Board, Messrs. Te and Veloso, and we all look forward to workingtogether with them."#
>>> Read the full story at The Philippine Stock Exchange, Inc. — PSE