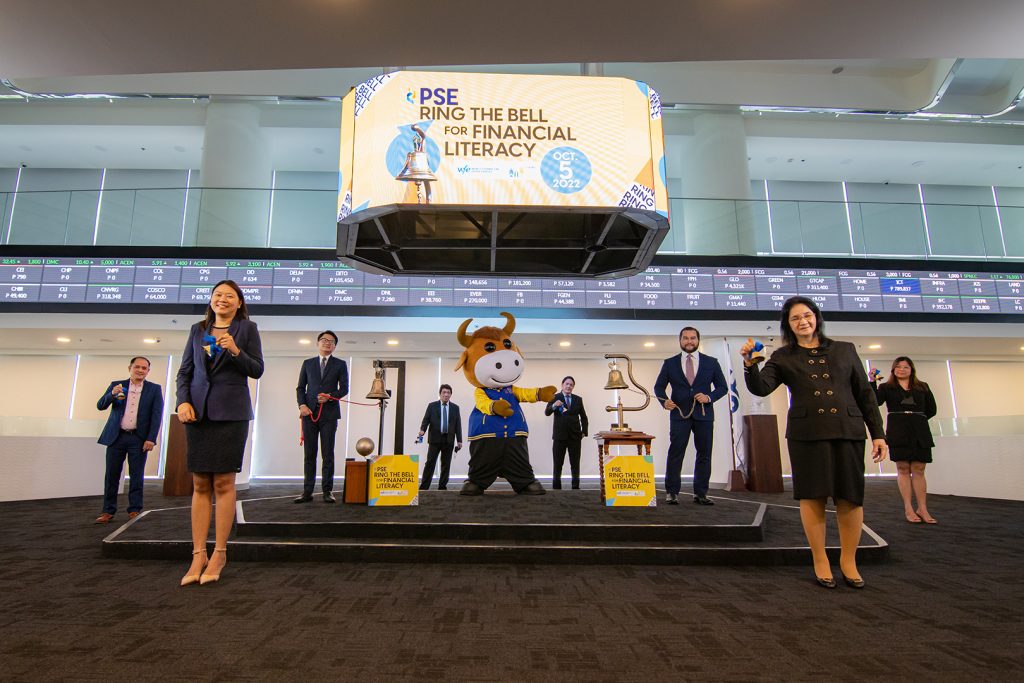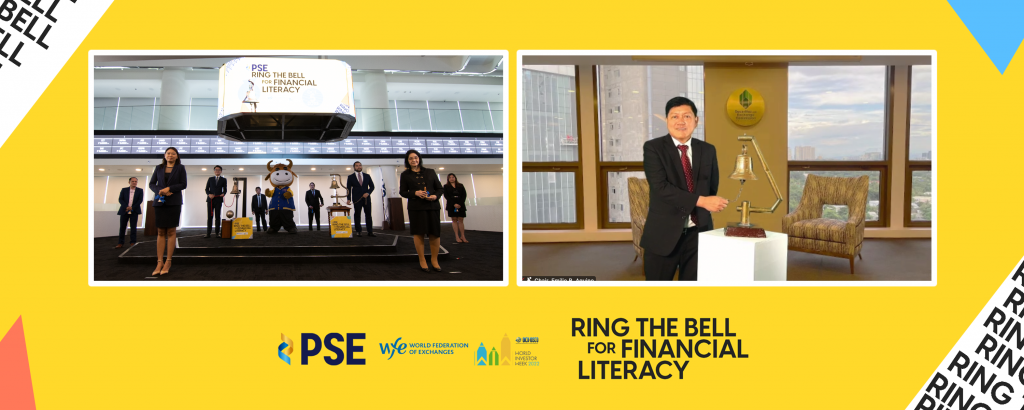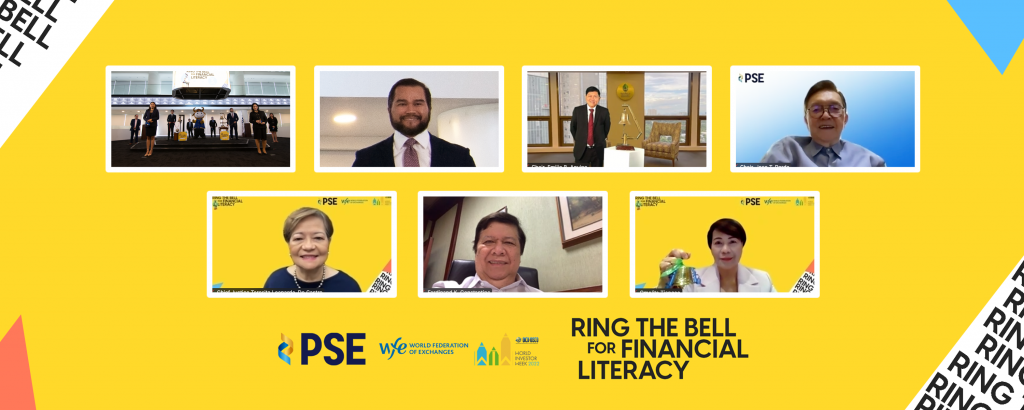 For a fourth straight year, the Philippine Stock Exchange, Inc. (PSE) took part in the global Ring the Bell for Financial Literacy program of the World Federation of Exchanges (WFE). The bell ringing event on Wednesday, October 5, was led by PSE Chairman Jose T. Pardo and members of the PSE Board, PSE COO Atty. Roel A. Refran and Securities and Exchange Commission (SEC) Chairperson Emilio B. Aquino.
Close to 80 WFE member organizations participated in the Ring the Bell for Financial Literacy 2022, in support of World Investor Week which is spearheaded by the International Organization of Securities Commissions or IOSCO.
"The current situation in global financial markets highlights the importance of investor education and the need for investors to understand the investment they are getting into, including the risks in investing and how to manage such risks," said PSE COO Atty. Roel A. Refran in his message. "Investor education, however, is not only for those who are preparing to put in their hard money into investment instruments. It is equally important for the general public to know what the legitimate investment instruments are and the proper channels to tap for investments. We say this because investment scams continue to proliferate and the perpetrators of these scams are more prepared and sophisticated."
"We at the SEC are pleased with the PSE's strong commitment to educate our citizens and ultimately enable them to access appropriate, affordable and timely investment products and services," SEC Chairperson Emilio B. Aquino said in his remarks. He also underscored the significant growth of the SEC's Campaign Network in the last two years, which amplified its investor education program. PSE is one of the Commission's pioneer partners in its SEC Campaign Network program.
During the bell ringing event, details about the first-ever PSE Campus Expo were announced. Scheduled in November, the online expo is open for free to all college students who are set on taking their first step towards financial literacy. Information on the PSE Campus Expo is available through https://campus-expo22.vfairs.com.
Photo 1 (from left, by row): PSE Issuer Regulation Division Head Atty. Marigel B. Garcia and Securities Clearing Corporation of the Philippines COO Renee D. Rubio; PSE Technology Division Head Philip A. Driz, PSE Capital Markets Development Division Head Mark Frederick V. Visda, PSE COO Atty. Roel A. Refran and PSE General Counsel Atty. Veronica V. Del Rosario; PSE Market Operations Division Head Roel M. Villanueva and PSE Finance Division Head Roberto Jose R. Jimenez
Photo 2: PSE Management Committee members led by COO Atty. Roel A. Refran at the PSE Tower and SEC Chairman Emilio B. Aquino at the SEC Office in Makati City ring the bell for financial literacy.
Photo 3 (from left, by row): PSE COO Atty. Roel A. Refran, SEC Chairman Emilio B. Aquino and PSE Chairman Jose T. Pardo; PSE Directors Chief Justice Teresita J. Leonardo-De Castro (ret.) and Ferdinand K. Constantino and PSE Treasurer Omelita J. Tiangco
>>> Read the full story at The Philippine Stock Exchange, Inc. — PSE