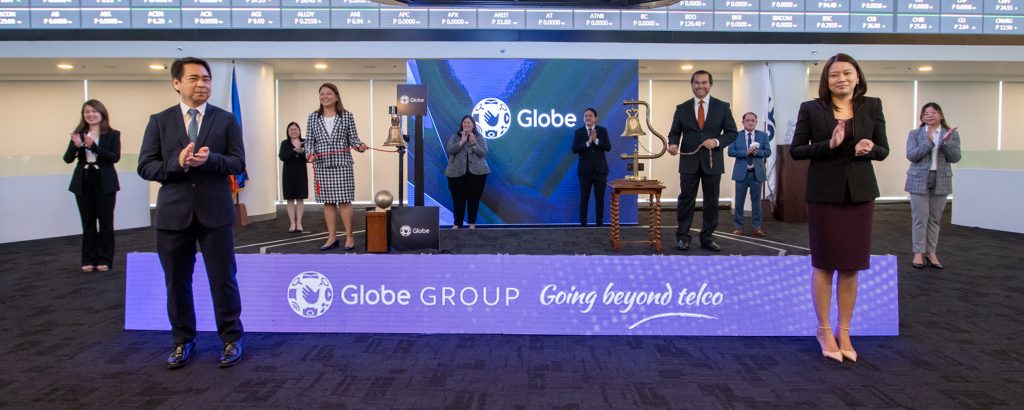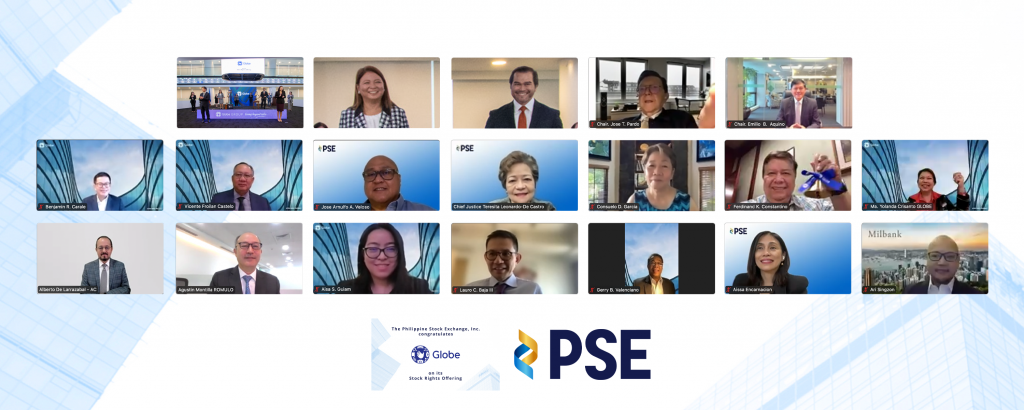 Globe Telecom, Inc. (GLO) concluded its 10.12 million stock rights offering with a bell ringing ceremony held at the Philippine Stock Exchange (PSE) on Friday, October 28. The Ayala-led telecom company raised Php 17 billion from the capital raising activity.
The listing ceremony was attended virtually by Securities and Exchange Commission Chairman Emilio B. Aquino and PSE Chairman Jose T. Pardo.
On-site participants in the bell ringing event were PSE Management led by Atty. Roel A. Refran and GLO Chief Finance Officer, Treasurer and Chief Risk Officer Rizza Maniego-Eala together with GLO officers.
In his welcome message during the event, PSE COO Atty. Roel A. Refran lauded the company for returning to the equities market after eight years to raise capital. He also congratulated GLO on its successful SRO. "The success of this stock rights offering despite current market conditions shows the formidable status of Globe as one of the biggest publicly listed companies by market value as well as a dependable brand. This is also a testament to the confidence and loyalty that shareholders have on the company's vision, strategic direction, and management and leadership."
SEC Chairman Emilio B. Aquino cited GLO for its Php17 billion stock rights offering and commended this undertaking as a welcome addition to the economy. "Now is indeed an opportune time for this listing. With Globe's expertise, the Commission is hopeful that the company will establish itself as a trusted digital transformation partner of the government. Large and small enterprise customers and empower the local economy in its digital transformation by helping businesses flourish through the right technology, infrastructure solutions and know-how, as well as in attaining its vision of leading a Philippines where families' dreams come true, businesses flourish and the nation is admired."
Photo 1 shows from left, by row: GLO Vice President for Financial Business Advisory Walter C. Ricarte and PSE Issuer Regulation Division Head Marigel B. Garcia; GLO Chief Compliance Officer and Senior Vice President for Law and Compliance Marisalve C. Co, GLO Chief Finance Officer, Treasurer and Chief Risk Officer Rizza Maniego-Eala, PSE COO Atty. Roel A. Refran and PSE General Counsel Veronica V. Del Rosario; BPI Capital Corporation President Rhoda A. Huang, GLO Vice President for Treasury Bernice D. Olives, PSE Finance Division Head Roberto Jose R. Jimenez and PSE Technology Division Head Philip A. Driz.
Photo 2 shows from left, by row: GLO Chief Finance Officer, Treasurer and Chief Risk Officer Rizza Maniego-Eala, PSE COO Atty. Roel A. Refran, PSE Chairman Jose T. Pardo and SEC Chairman Emilio B. Aquino; Latham and Watkins LLP Partner Atty. Benjamin R. Carale, GLO General Counsel Atty. Vicente Froilan M. Castelo, PSE Directors Jose Arnulfo A. Veloso, Chief Justice Teresita J. Leonardo-De Castro (ret.), Consuelo D. Garcia and Ferdinand K. Constantino and GLO Chief Sustainability and Corporate Communications Officer Yoly C. Crisanto; Ayala Corporation CFO and Chief Sustainability Officer Alberto M. De Larrazabal, Romulo Mabanta Buenaventura Sayoc & de los Angeles Senior Partner Atty. Agustin R. Montilla IV, GLO Director for Financial Planning and Analysis Aisa S. Guiam, UBS Head of Global Capital Markets for APAC and Head of Global Banking for the Philippines Lauro C. Baja III, PNB Capital and Investment Corporation President and CEO Gerry B. Valenciano, PSE Corporate Secretary Aissa V. Encarnacion and Milbank LLP Associate Ari Singzon.#
>>> Read the full story at The Philippine Stock Exchange, Inc. — PSE